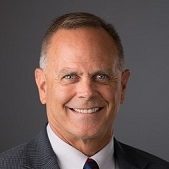 President and Founder, Board Member
Dan Harriman graduated from The Ohio State University in 1981 with a degree in Chemical Engineering. He began his working life in Petroleum Engineering in the oilfields of Louisiana with Amoco Production Company.  In 1984, a friend introduced him to the wonderful world of investing and he has been entrenched ever since, making it his full-time occupation in 1993. Dan loves working with clients and helping them "get there" financially to reach their goals. He prides himself on being there for his clients and has been fortunate to work with many clients over multiple decades.
In 2004, Dan designed and helped develop a web-based planning software called the MoneyEdge used by many associates to perform financial reviews for their clients. The software has been privately labeled and used by over 1000 advisors since its inception. Dan's objectives are to help families and individuals become debt-free and financial independent with the freedom to achieve the goals they set for themselves. The MoneyEdge was designed as a planning tool with these objectives in mind.
In November 2008, Dan was selected by the Dave Ramsey Endorsed Local Provider program to work with clients who have asked for financial advice through the Dave Ramsey program. This was changed to the SmartVestor program in August 2016.
In August 2014, he set up Independent Financial Professionals (IFP) and moved his investment business to Cambridge Investment Research, Inc. after a 15-year career with Capital Choice Financial Services as an Executive National Marketing Director. From his office in Cedar Park, Texas, Dan currently advises on over 85 million dollars for his personal clients and also serves as a mentor and supervisor to securities representatives around the country. The total group advises on over $621 million of assets under management and does business in 48 states, D.C., and Puerto Rico.
Dan lives in Round Rock, Texas with his wife Linda and their three boys, Blaine, Dillon, and Jason.
Independent Financial Professionals